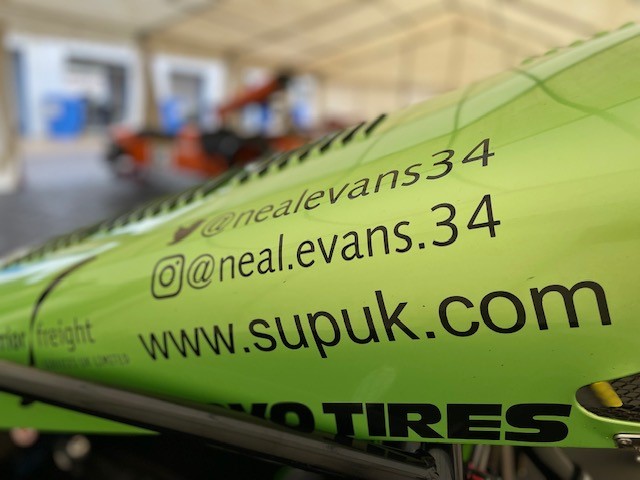 Racing at Thruxton, Andover 8th and 9th July 2023 CGRC & Thruxtonracing.co.uk/racing/british-trucks
The fourth race weekend in the Caterham Graduates 150 Class in the Superior Freight sponsored car at the UK's fastest circuit. 
Friday provided an open pitlane format where drivers and car are essentially free to take to the track when they wish. As well as an open pitlane, the weather was glorious with temperatures around 29C.  Taking advantage of this Neal started familiarising himself with the circuit and finding out where the limit was.
Qualifying: Weather/Track: Showers/Damp
The weather couldn't have been more different.  Rain and a big drop in temperature made for different track conditions. 
Race 1 – Saturday Weather/Track: Showers/Dampening
Thankfully the weather improved and a dry track was what the drivers were greeted with for Race 1.  Although it started to rain 5 minutes before the end the track did not become too different, and Neal finished 9th . Average speed over the race distance was 93.58 MPH and finished 9.923 seconds behind the winner. The Superior Team had a great day out hosted by Neal.
Race 2 – Sunday Weather/Track: Bright/Dry
The race was supposed to start at 15:35 but due to a heavy crash in the Truck racing the race start was delayed by about 90 minutes whilst the repair crews made safe the barriers and catch fending.  Safety car starts are dependent on all the drivers keeping as close to the car in front as possible; if anyone causes a gap this creates a challenging space to endeavour to catch the leaders which is exactly what happened. Car 9 in 12th place caused such a gap and he was soon dispatched on lap one by cars 33 and 15.  Neal passed him at the end of lap 2 and rigorous defending against car 101 going through the chicane saw Neal move up the field whilst 101 and 9 squabbled over a place.  This allowed Neal to build a gap and catch the 15 car and pass him.  As with race 1 Neal built a gap and set about chasing the leaders but was unable to close the gap created early in the race and finished 10th, this time the average speed over the race distance was 92.86MPH and finished 42.187 seconds behind the winner.