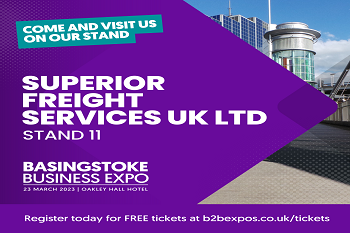 Come and join us at the region's biggest business to business exhibition taking place at Oakley Hall Hotel on Thursday 23rd March 2023, between 10am - 2pm.
With over 250 businesses attending the show, this is a brilliant event to gather new contacts that could benefit your company in the near future. Don't miss the chance to grow your connections by getting involved with workshops and speed networking throughout the day and listen to keynote speakers and become engaged with ideas and inspiration for your business.
Tickets are free, so there really is no excuse to miss out on this fantastic opportunity. Talk to Superior.  
To register for FREE tickets go to: https://www.b2bexpos.co.uk/event/basingstoke-expo-march-2023
#BasingstokeExpo @B2BExpos @BasingstokeExpo
Follow Basingstoke Expo on LinkedIn
Superior Freight Services Products 
Follow Superior Freight on LinkedIn